The end of a year always brings a look back at major milestones.
It also brings to mind those we have loved and lost.
2008 saw the hockey world say good-bye to a number of past and present players.
Some had full and prosperous careers.
Others had barely begun to live.
All leave a mark that we won't soon forget.

Alexei Cherepanov ~ January 15, 1989 – October 13, 2008
Alexei's sudden collapse and subsequent death during a game for Avangard in the KHL raised questions about the safety and security of arenas in the Russian league. The defibrillator at the rink had a dead battery. The ambulance assigned to the rink had left early, for some reason. Today, the Associated Press reported that Alexei had been using performance enhancing drugs. None of this can take away the fact that this young man was immensely talented, skilled and headed for a great future with the New York Rangers. Hopefully, his death will serve as a wakeup call for the KHL to right what's wrong with the league, and make sure players remain healthy.
Luc Bourdon ~ February 16, 1987 – May 29, 2008
The real tragedy about Luc's death is that it could happen to anyone. A young man buys a toy he's always wanted: a motorcycle. He takes a ride near his home, slides on a wet road and collides with a truck. In a flash, a promising young life is gone.Luc overcame so much to make his hockey dream come true. He was confined to a wheelchair at age 9 as he battled juvenile arthritis. He went on to play in the Quebec Major Junior Hockey League and eventually the Vancouver Canucks. He helped Team Canada win back to back gold medals in 2006 and 2007.By all accounts, Luc's heart was as big as his talent. When he signed his first pro contract, he anonymously donated $10,000 to his childhood minor hockey association to help buy equipment for kids whose parents who couldn't afford it. His former bantam hockey coach revealed the donation after Luc died.We've seen how the hockey world has paid tribute to this young man and his talent. Fans can visit the Luc Bourdon Wall of Dreams at GM Place in Vancouver.
Mickey Renaud ~ October 5, 1988 – February 18, 2008

Here is another promising young life cut short. Mickey Renaud collapsed at his home and was rushed to the hospital, where he died. He had played a hockey game the night before, as captain of the Windsor Spitfires of the OHL. Several months after his death, medical reports showed that Mickey died from a heart condition called hypertrophic cardiomyopathy, which causes a thickening of the heart muscle. The Calgary Flames had drafted Mickey in 2007 and by all accounts, his star had been on the rise. There are many tribute sites set up to this talented young man online.
John Ashley ~ March 5, 1930 – January 5, 2008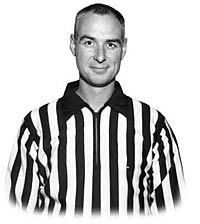 John began his NHL career as a referee in 1959. Between 1964 and 1972, he officiated every Game 7 in the Stanley Cup playoffs and was elected to the Hockey Hall of Fame in 1981. He died in Kitchener, Ontario.
Bill Juzda ~ October 29, 1920 – February 17, 2008


Bill went to the Memorial Cup with the Kenora Thistles in 1940. He was playing with the Philadelphia Ramblers in 1941 when he was called up to the New York Rangers. He took a break to fight with the Canadian Armed Forces in World War II but returned to the Rangers in 1946. He was traded to the Toronto Maple Leafs in 1947. He won two Stanley Cups with the Leafs in 1949 and 1951. Bill was inducted to the Manitoba Sports hall of Fame and Museum in 1992. He reportedly wore his 1949 Stanley Cup ring until he died.
(Reardon is on the left)
Kenny played for the Montreal Canadiens for two seasons before taking time out in 1942 to fight in World War II with the Canadian Army. He returned to Montreal in 1946 and helped the Habs win the Stanley Cup that year. He continued his hockey career off-ice and became a successful executive, primarily with the Canadiens. During his time in Montreal, the team won 5 Cups. He was inducted into the Hockey Hall of Fame in 1966.
Ed Chynoweth ~ December 14, 1941 – April 22, 2008


This man was simply put, amazing. He was one of the most influential men in the world of junior ice hockey in Canada. Ed helped form the CHL in 1972, bringing Canada's three major-junior leagues together. He also became the WHL's first full-time president that year and held that job until 1995, taking a brief break to serve as GM of the Calgary Wranglers in 1979 and 1980. WHL Commissioner Ron Robison says, "The success the WHL and our Member clubs are experiencing today is a direct result of the vision and leadership Ed Chynoweth provided to this league over the past 37 years."The WHL renamed the WHL Championship Trophy the Ed Chynoweth Cup. The Ed Chynoweth Trophy is awarded to the top scorer at the Memorial Cup tournament. He was inducted into the Hockey Hall of Fame this year as a builder.Chynoweth also formed the expansion Edmonton Ice, which is now known as the Kootenay Ice. His sons Jeff and Dean are following in his footsteps, serving as GMs of the Kootenay Ice and Swift Current Broncos, respectively.Ed Chynoweth died of kidney cancer in Calgary.
Ray Getliffe ~ April 3, 1914 – June 15, 2008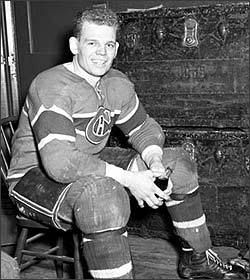 Ray played ten seasons in the NHL for the Boston Bruins and Montreal Canadiens. His name is on the Stanley Cup twice: with the Bruins in 1939 and the Habs in 1944. On February 6, 1943 he scored five goals in one game for the Canadiens. But Ray is best known for giving Maurice Richard his famous nickname: "Rocket".Before he died at age 94, he was believed to be the second-oldest living NHL player. Ray died of liver cancer in London, Ontario.
Miroslav Dvorak ~ September 11, 1951 – June 11, 2008

Miroslav began his career in Czechoslovakia in 1967. The Philadelphia Flyers drafted him in 1982. He had to wait until his 30's to play in the NHL because of strict sports rules during the communism era in Czechoslovakia. He played for the Flyers for three seasons before returning to his homeland and finishing his hockey career there. He died following a long battle with throat cancer.
Pat Egan ~ April 26, 1918 – June 3, 2008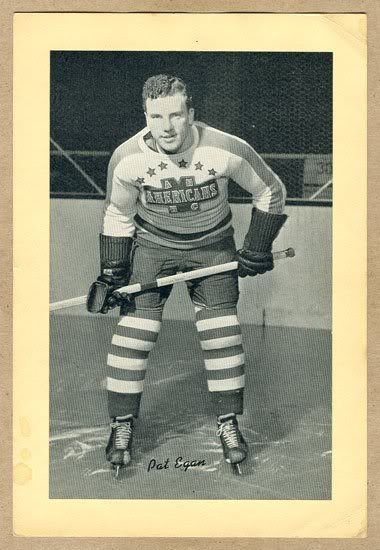 Pat began his pro career in 1938 with the Seattle Seahawks of the Pacific Coast Hockey League, where he marked 185 penalty minutes in 44 games. His career expanded to the NHL, where he played for the New York Americans before they folded. The Detroit Red Wings picked him up in 1944, then traded him to the Boston Bruins, where he spent six seasons. He finished his pro career with the New York Rangers, then finished his career in the AHL and WHL. He was suspended from the AHL for life for assaulting a linesman. That suspension was lifted a week later. He went on to coach the Springfield Indians of the AHL to three straight Calder Cups.
Gilles Bilodeau ~ July 31, 1955 – August 12, 2008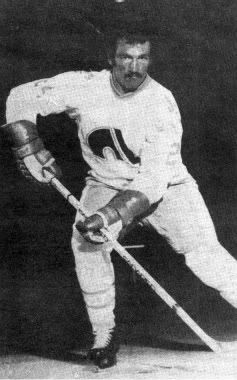 Gilles played 9 games in the NHL with the Quebec Nordiques, but played the majority of his career in the WHL, mostly with the Toronto Toros and Birmingham Bulls. He was known as a fierce, and often violent player. Reporter Tom Hawthorn wrote this about Gilles: "A tough and fearless hockey player, Gilles Bilodeau created mayhem whenever he stepped onto the ice. He punched like a heavyweight and he wielded a hockey stick like a woodman's axe, tripping faster rivals and clubbing tough opponents." He once broke a goalie's neck with a cross check from behind and bit a chunk out of another player's ear during a fight. Gilles died in Birmingham, Alabama, of pancreatic cancer which went undiagnosed.
Ned Harkness ~ September 19, 1919 – September 19, 2008


Ned was a successful hockey and lacrosse coach at Cornell University and Rensselaer Polytechnic Institute from the 1940's to the 1960's. He's known for recruiting Ken Dryden to Cornell. He also coached the Detroit Red Wings in 1970 and served as the team's GM from 1970 – 1973. Unfortunately, according to Wikipedia, Detroit fans remember that era as "Darkness with Harkness", one of the worst periods in franchise history. Ned Harkness died on his 89th birthday.
Hubert "Pit" Martin ~ December 9, 1943 – November 30, 2008


The nickname "Pit" came from a comic strip character in a French Newspaper. His NHL career spanned 17 seasons, with a number of teams, including the Chicago Black Hawks, Detroit Red Wings, Boston Bruins and Vancouver Canucks. He, Gille Marotte and Jack Norris were traded from Boston to Chicago for Phil Esposito, Ken Hodge and Fred Stanfield. Martin was named to the NHL All Star Game for four straight seasons as a Black Hawk and was part of the team that made it to the Stanley Cup Finals in the 1972-73 season.Pit Martin was reported missing following a snowmobile accident near Rouyn-Noranda, Quebec. His snowmobile broke through ice on Lake Kanasuta and plunged into the water. Police recovered his body two days later.

Bob Blake ~ August 16, 1914 – November 26, 2008
Bob played with the Boston Bruins for in 1935, then spent the rest of his career shuffling between the AHL, CHL and IHL. He took a break to fight in World War II with the US Air Force. After he retired from hockey, Bob coached high school hockey and coached a team in Fort Erie, Ontario. He was inducted into the United States Hockey Hall of Fame in 1985 and continued to teach youngsters hockey until he died.
Armand "Bep" Guidolin ~ December 9, 1925 – November 24, 2008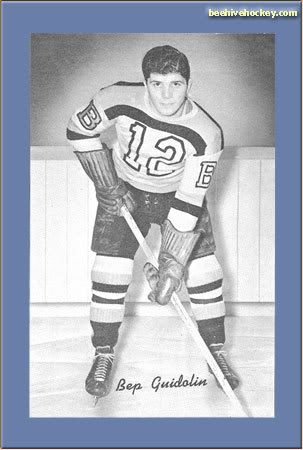 Bep became the youngest player to play in an NHL game in 1942. He was 16 years, 11 months old when he took to the ice with the Boston Bruins against the Toronto Maple Leafs. He took a break to fight in World War II in 1944 before returning to the ice. Bep also played for the Detroit Red Wings and Chicago Black Hawks. His support for the formation of a players' union help end his career in 1952. He went on to coach several junior teams, including the Oshawa Generals, which featured a 17 year old by the name of Bobby Orr.
George Morrison ~ December 24, 1948 – November 12, 2008


George played in the NHL for the St Louis Blues, but made his mark with the WHL. He may be best known for setting a WHL record for the fastest hat trick: 43 seconds. Here's a funny story about George Morrison, as reported by sportswriter Tom Hawthorn: "While playing with the Blues in his rookie season, Mr. Morrison found himself riding the bench as the clock ticked down in a game against the Los Angeles Kings. Figuring his work was done for the night, he sent an usher in search of a hot dog, surreptitiously swapping one of his sticks for the snack. He snuck a bite whenever the play took the coach's attention away from his direction. He was still chewing when Coach Scotty Bowman unexpectedly ordered him onto the ice. Not wishing to be discovered violating an unwritten rule of hockey etiquette by eating on the bench, he shoved the remnants of the sausage down the cuff of one of his hockey gloves. He wasn't on the ice for long before being body-checked by an opposing player. The collision sent bits of bun, splashes of condiment and a half-eaten hot dog flying across the ice. "
Hank Goldup ~ October 29, 1918 – December 14, 2008

Hank played in the NHL for the Toronto Maple Leafs and New York Rangers. He helped the Leafs win the Stanley Cup in 1942. This was the team that came back from three games down to win the Cup. He finished his NHL season with the Rangers, after taking a break to fight with the Canadian Army in World War II.